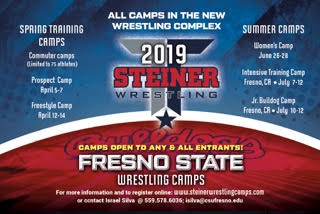 Women's Training Camp

June 26, 2019 - June 28, 2019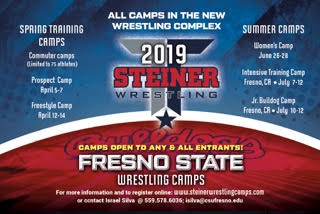 This camp will be designated for just the girl wrestlers. We will feature 2018 Women's World Team Coach Troy Steiner, this camp will also feature 2018 World Silver medalist and USA Olympic hopeful Sarah Hildebrandt.
This Camp will be located at Fresno State North Gym.
Fresno State Women's Camp
June 26-28th
Daily Schedule
Wednesday, June 26
               2:00-3:00pm       Check-in:             University Courtyard/Homan Hall
                                                                                          5152 N. Barton Ave
                                                                                          Fresno, CA 93740                           
               5:00-6:00pm                      Conditioning
               7:30-9:00pm                      Live Wrestling Session #1
               10:00pm                             Room Check
               10:30pm                             Lights out
Thursday, June 27
               6:30am                Wake-up
               6:45-7:30am                      Run Session #2
               7:30-8:30am                      Breakfast
               9:30-11:30am                    Technique Session #1
               12:00pm-1:00pm              Lunch
               2:00-3:00pm                      Technique Session #2
               3:00-4:15pm                      Live Wrestling Session #2
               5:30-6:30pm                      Dinner
               8:30-9:30pm                      Technique Review
               10:30pm                             Room Check & Lights out
Friday , June 28
6:00-7:00am                      Drill
7:30-8:30am                      Breakfast
9:30-11:00am                    Live Wrestling #3
11:00am-12:00pm                   Check Out 
Gender: Female | Ages: 6 - 18
June 26, 2019 - June 28, 2019 | Fresno, California
Wed, June 26, 2019 - Fri, June 28, 2019
5305 N. Campus Dr
Fresno
,
California
93740